When it comes to solder mask and solder paste, there are some engineers confused about their functionalities and even most of laymen thought they are the same, this is not hypothetical, it is real that happened to me. So today let's explain differences between Solder Mask and Solder Paste for you.
Part 1: What is Solder Mask?
If you had ever seen a printed circuit board, you may see there is a layer of green ink cover on the PCB surface while some orange-yellow areas didn't cover by ink. In PCB industry, the green ink we called Solder Mask, or abbreviated as S/M, and exposed area is copper, they were leave as GND plane or soldering pads to mount electronic components.
Solder mask is a liquid acrylic oligomer, which has variety of colors such as red, blue, green, white, black. Green is commonly used in the process of PCB manufacturing, so some professional engineers call it as green oil.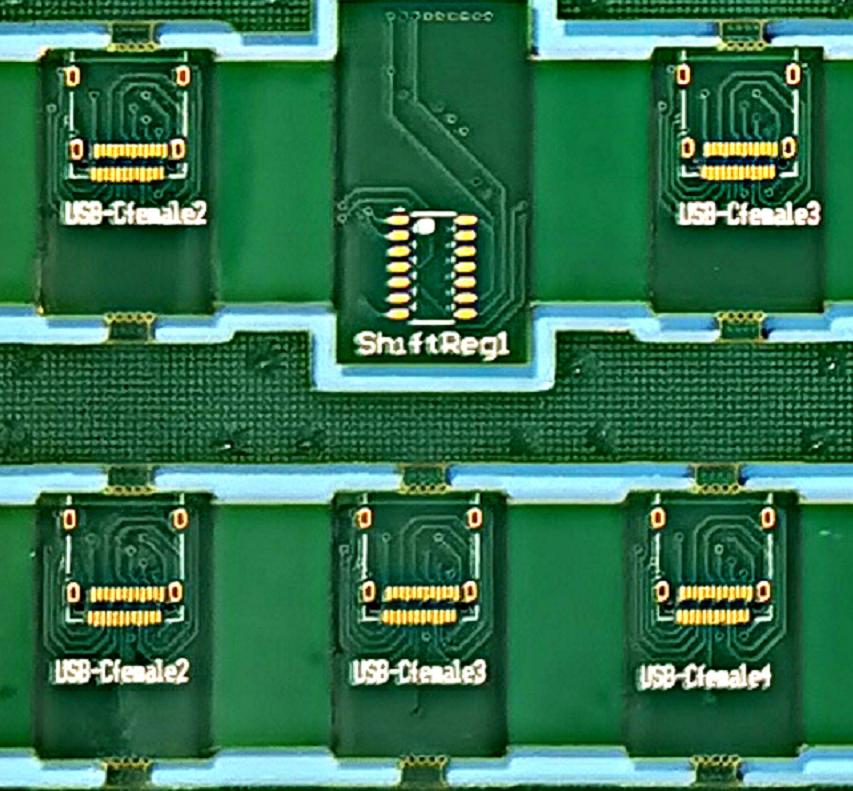 Solder mask applied on the PCB designed as a protection layer to avoid oxidation, corrosion and other environmental impacts when they leave production line. In addition, solder mask between solder pads also can help to prevent forming to solder bridge when assembly.
Below are some other functions of coating a layer solder mask:
Prevent physical line breaking of copper trace
Only weld in the area that must be soldered to avoid waste of soldering
Reduce copper pollution to soldering groove
Prevent insulation deterioration and corrosion caused by dust, moisture and other external environmental factors
With high insulation, so that the high-density circuit is possible
Part 2: What is Solder Paste?
Solder Paste also known as "Solder cream", is a most important soldering material used in surface mount technology (SMT) process. Mainly function for soldering resistors, capacitors, ICs and other electronic components onto the PCB surface to form a permanent connection.
The solder particles are a mixture of solder formed by mixing solder powder, flux and other surfactants and thixotropic. Traditionally this used to be tin and lead, but with the legislation has been introduced around the world, to only use lead free solders. These may be made from a variety of mixtures, Best Technology commonly used is SAC305 which includes 96.5% tin, 0.5% copper and 3.0% silver, some manufacturers also use 99.7% tin and 0.3% copper, whereas there are other mixtures that include other metals including tin.
Due to the role of solder paste in assembly, solder paste storage is extremely important. However, solder paste got into drying during storing became a common problem faced by most PCBA manufacturers, so How to solve solder paste dry problem is premier.
Part 3: The Difference Between Solder Mask and Solder Paste
Solder mask is a formal part of PCB, but solder paste ONLY for PCB assembly.
Solder mask is not allowed on the solder pads while solder paste can be printed on the solder pads openings.
Solder mask is used for applying solder mask ink, but solder paste is used for applying paste.
Solder mask has many available colors, but paste mask visually gray.
Solder mask is coating during PCB fabrication, but solder paste is printing when PCB assembly.
With over 16 years in PCB industry, Best Technology is one of the most reliable PCB and PCBA supplier in Asia, we commit to provide high quality products with excellent service before and after sales, to take care our customers wholeheartedly, and to treat customers' business as ours. At the same time, we keep learning and continually to improve ourselves so that we can catch up the latest technology trend and provide better and better service for our customers.