This week we have been lucky enough to have a lot of customers visit us. We really enjoy it when we have customer visits. We get a chance to talk to them face-to-face and give them a tour of Best Technology. What's even better is being able to meet people and get to know them.
Our customers get to see all of the people who are involved in serving our customers and get to meet many people from teams all across our company – from sales team to product management, our leadership team, and marketing.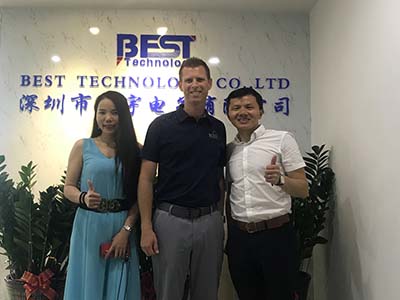 Why do we like customer visits so much? Sure, we get to show off our facilities, such as our testing and certification. We work hard at making these facilities second to none in the industry. But that's not why we love it. We love when our customers come to see us because it's human.
Seriously, no matter how much technology evolves, business is human. Business is done by people. A purchase is an exchange between people. We embrace this and don't ever want to forget it.
You can have all the technology in the world making business more convenient, less expensive, easier and faster. This is all stuff in the middle. At the ends are people. The technology is an interface… an intermediary… a medium… or a vehicle.
Now and then it's nice to get rid of all of that stuff in the middle.
Things move pretty fast day-to-day. People are busy. We all have things to do and deadlines to get them done. This is why we appreciate the time to look our customers in the eye, shake their hands and thank them for choosing us. It matters to us. We want people to really know how grateful we are to be working with them. It's fantastic when we have that opportunity.
To all the customers who visited us this week, thank you for spending your time with us. We enjoy getting to know you and your businesses better. We hope you enjoyed your visit and hope you come back to see us again.