Xiaomi co-founder and CEO Lei Jun said,"To connect everything needs collaboration with others."On November, 2018, Xiaomi announced a strategic partnership with IKEA. IKEA's full range of smart lighting products will be connected to Xiaomi's IoT platform starting this December in China. This marks the first time IKEA has partnered with a Chinese technology company.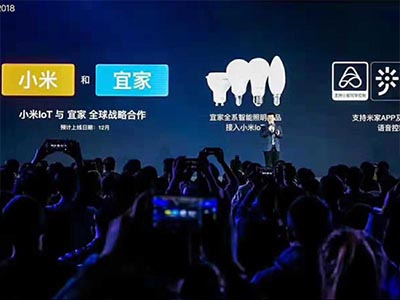 Through the cooperation, the lighting products of IKEA can be controlled by smart speakers including Xiaomi's AI voice assistant Xiao Ai, which is currently only available for Chinese Mandarin speakers.
Most of Xiaomi's fans might know that its 'Mi Home' app designed to manage Xiaomi devices and products as well as Xiao Ai will be compatible in IKEA's smart lighting products.
Speaking at the Xiaomi AIOT Developers Conference, Lei Jun said the combination of artificial intelligence (AI) and IoT will be the core strategy of his company's business in ten years.
Fan Dian, General Manager of the IoT platform department of Xiaomi, said, "IKEA and Xiaomi share very similar values and I believe our collaboration will accelerate the development of the smart home industry across the world."
According to the company's third-quarter financial report, Xiaomi has connected 132 million IoT devices in the ended September.
With a goal to allow people to fully embrace AI in daily life at home, more and more PCBs are applied into connected home. Because the benefits of high thermal conductivity and heat dissipation highly meet the requirements of the market, the aluminum core PCB and ceramic PCB are the perfect match for LED lights. If you would like to add more colors for your smart home, the aluminum core PCB and ceramic PCB from Best Technology are nice choice.
Tags: aluminum core PCB, ceramic PCB, connected home, LED light, smart home