You may have ever heard of RF PCB, but do you know What it is and What are the characteristics of these kinds PCB?
Today let us make a simple introduction for it.
RF PCB, means radio frequency PCB. People also called these PCB High frequency PCB, it is for the PCB with a higher electromagnetic frequency, and it is used on the products field with high frequency. (Frequency greater than 300MHZ or wavelength less than 1 meter) and microwave (frequency greater than 3GHZ or wavelength less than 0.1 meter). It is made by microwave substrate with common PCB manufacturing process or with some special way to make.
High-frequency boards have very high requirements for various physical properties, accuracy, and technical parameters, and are often used in communication systems, automobile anti-collision systems, satellite systems, radio systems and other fields.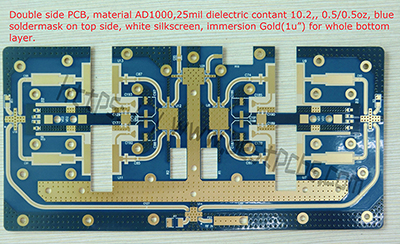 How can we know which PCB materials are suitable for making the RF boards?
When evaluating the high-frequency characteristics of a substrate material, the key to its investigation is the change in its DF value (Dissipation Factor).
For substrate materials with high-speed and high-frequency characteristics, in terms of changing characteristics at high frequencies, there are two distinct types of general substrate materials: one is that with the change of frequency, its (DF) value changes very little. There is another type that is similar to the general substrate material in the range of change, but its own (DF) value is lower.
The common epoxy resin-glass fiber cloth-based materials (FR4), the DK value at the frequency of 1MHz is 4.7 and the change of the DK value at the frequency of 1GHz is 4.19. Above 1GHz, the change trend of its DK value is gentle. The change trend is that as the frequency increases, it becomes smaller (but the change is not large). For example, at 10GHz, the DK value of FR-4 is generally 4.15. The substrate material with high-speed and high-frequency characteristics changes in frequency. When the DK value changes slightly, the DK value keeps changing in the range of 0.02 when the frequency changes from 1MHz to 1GHz. Its DK value tends to decrease slightly under different frequency conditions from low to high.
On the other hand, the thermal expansion coefficient of the high-frequency circuit board substrate and the copper foil must be the same. If they are inconsistent, it will cause the copper foil to separate during the cold and hot changes. Secondly, in a humid environment, the water absorption rate must be low, and high water absorption rate will cause dielectric constant and dielectric loss when wet. In general, the heat resistance, chemical resistance, impact resistance, and peel resistance of the high-frequency sheet must be good.
The following are several commonly used high-frequency and high-speed PCB boards we have summarized:
Rogers: RO4003, RO3003, RO4350, RO5880, etc.
TUC: Tuc862, 872SLK, 883, 933, etc.
Panasonic: Megtron4, Megtron6, etc.
Isola: FR408HR, IS620, IS680, etc.
Nelco: N4000-13, N4000-13EPSI, etc.
Other materials like Arlon, Teflon, Taconic are also good for the manufacturing of RF PCB boards.
If you have any question for RF pcb, welcome to send your request and question to discuss more.