Firstly, do you know what's a countersink and counter bore?
By definition, a countersink is a stepped hole, which can allow the fasten parts head to sink fully to the parts.
With counter sink on your design, the tapered head of a screw can sit flush with the top of the laminate, commonly countersink is used to install bolts or other connecting parts.
Below is the example for the hole drawing and picture for a countersink:
Picture: counterbore holes attributes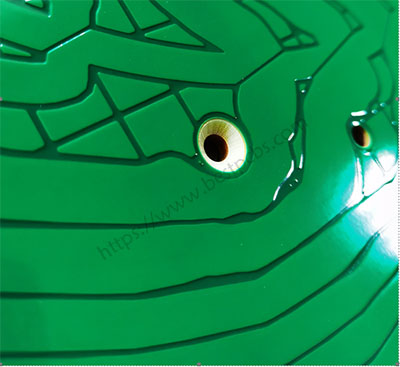 To drill your countersunk holes accurately in our PCB fabrication plant, the following information is need to be defined when you supply the PCB drawing for us to make the PCB:
Which side of the board is the countersink hole should be drilled, on top or bottom?
Is the sink and shaft to be through plated or non-plated?
Taper angle or countersink angle. 82°, 90°,120° etc.
Countersink diameter of top
Countersink diameter of bottom (body)
Depth of the countersink is to be drilled(the height of the screw to determine the countersink depth.
By comparison, a counterbore makes a flat-bottomed hole and its sides are drilled straight down. This is usually used when a fastener such as a bolt or cap head screw is required to sit flush with or below the level of a surface.
Below is the drawing and picture for a countersink.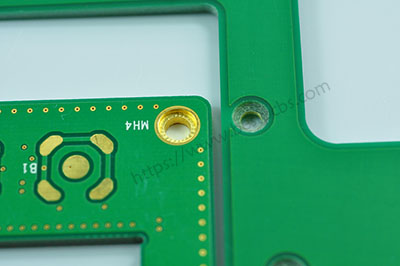 Same as the countersink, the counterbore holes attributes drawing is needed to supply with your PCB drawing when fabricate the counterbored holes. But for counterbore on PCB, because the sides of the hole are always parallel, there is no need to specify the angle.
With below drawing, believe it will be more helpful for you to understand the difference for a counter sink hole and counterbore on the printed circuits board.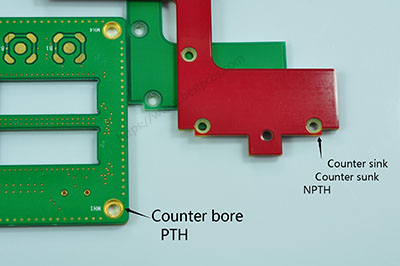 If need to have any question regarding the counter sunk or counter board on a PCB drawing, please contact us feel free.
Tags: PCB drawing