Every electronic appliance in your home contains a printed circuit board (PCB). But do you ever wonder what happens to PCB' s after they have been used? Tons of PCB' s are thrown away every year, but thanks to some very creative people, used PCB' s are being turned into artistic and functional products. We have selected some of our favorites below.
PCB Cufflinks
The PCB cufflink set is the perfect gift for the fashion conscious gent. Each cufflink uses a 16mm square of PCB. What makes these PCB cufflinks even more special is that no two sets will ever be the same.
PCB Art
Mr.Steven Rodrig, working for an OEM company, is exposed to PCB' s often at his workplace and his prior knowledge of 'Structural Mechanics' led him to the interesting practice of modelling small sculptures from spare or used PCB' s.
Steven's PCB sculpting abilities stretch far beyond single objects or creatures, he can make full scenes from unused PCB' s. Take a moment to appreciate the sheer intricacy of these sculptures. Countless hours of planning and practice must have gone into getting these to look so neat and tidy.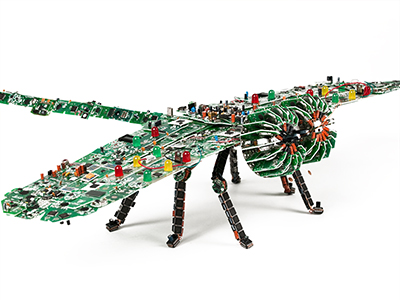 PCB Business Card
A savvy electrical engineer from The University of Waterloo thought up another fantastic purpose for PCB manufacture – his business cards, with an integrated USB connection!
Could this be a sign of the future? Imagine the data that could be passed over. Not just simple contact details and addresses, but full-on portfolios, video presentations, games, and any other form of digital media. This is a fantastic concept and a great use of PCB' s.
PCB' s have more uses than you might think. Just remember, Best Technology, always being here, dedicates to being your best supplier of printed circuit boards(PCB) with consistent good quality in Asia.
Tags: PCB Application