For PCB materials, you may have ever heard about many different kinds of materials such as the materials of FR4, Aluminum, Copper base and ceramic base.
But do you know what the duriod 5880 materials is?
Actually duriod 5880 is a kind of materials of the Rogers, it is the materials which is used for high frequency circuit board. RT 5880, which is famous for its low dielectric loss, low moisture absorption, and stable dielectric constant. The PCB made of duriod 5880 can be widely used in airborne and ground-based radar systems, millimeter wave applications, and space satellite transceivers.
Different with other kinds materials, the color of the RT 5880 materials is black.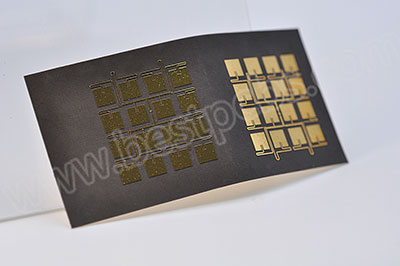 Why this material can be used in such high end field? Let's see below to know more information.
Excellent dielectric properties:
RT/duroid 5870/5880, as a new generation of high-frequency laminate, is made of polytetrafluoroethylene composite material (PTFE). At the same time, glass microfibers are randomly distributed in the material, which provides the greatest strength during the production and application of the circuit board.
High-frequency circuit design has strict requirements on the dielectric constant of the printed circuit board. RT/duroid 5880 has an ultra-low dielectric constant and remains the same in a very wide operating frequency range.
At 10GHz operating frequency, the measured dielectric constant is only 2.33/2.2, which is significantly lower than similar materials on the market. Therefore, from the perspective of performance parameters and production costs, the board is more suitable for high-frequency application design than similar products.

At the same time, under the same standard (f=10GHz), and the dielectric loss of the RT5880 is only 0.0012/0.0009. The extremely low dielectric loss makes it very suitable for high-frequency and the field of wide-band applications which requiring minimal dispersion and low loss.
In addition, the extremely low moisture absorption rate makes it an ideal choice for applications in high humidity environments. The moisture absorption rate of RT/duroid 5880 is only 0.02%, so it can meet the strict requirements of mechanical reliability and electrical stability in the complex microwave structure design, and it is also suitable for applications in high humidity environments.
With the continuous improvement of the operating frequency of high-frequency circuits, the requirements for the dielectric constant and dielectric loss of the circuit board are becoming more and more stringent. The excellent performance of RT/duroid 5880 in these two aspects can significantly improve the design of high-frequency circuits. Definity, improve circuit performance.
Easy to process and install
In this high-frequency design, in order to meet the requirements of electromagnetic shielding and compact design, printed circuit boards are often installed in various irregularly shaped cavity structures. Therefore, the PCB board must be designed in different shapes and suitable for production and Installation.
For RT/duroid 5880 laminate, which is easy to cut, trim and good for PCB manufacturing.
At the same time, it can resist all the solutions and chemical agents used in the process of etching and plating through holes, and it has a good performance of the cold and heat resistance.
The composite material RT/duroid 5880 can be covered with a laminated copper foil for some key electrical applications, and brass plates or copper can also be used as required.
Usually laminates of the RT/Duriod 5880, it can make double-sided copper clad with thicknesses ranging from 1/2 oz. to 2 oz./ft2 (8.5~70 μm) to meet most custome's requirements for the thickness of copper foil.
Our company has focus on the PCB fabricationi for more than 15 years, we can make PCB with Rogers PCB with RT/Duriod 5880, as well as RO4003C and RO4350B with different thickness.
If you are interesting to know more and your PCB also want to made of RT/Duriod 5880, please feel freely to contact us for more information related.
Tags: RF Board, Special PCB